Bring a sailor's classic into your bedroom and navigate through your wildest dreams. This timeless sailor stripe pattern invites itself onto your customised headboard as an original decoration "made in France. Designer Paraja takes another look at this timeless striped pattern by offering it in four different colours: black, blue, red and green. These colored stripes will dress up your cosy bed with style. Easy to install, this trendy removable headboard cover will seduce all you fresh water sailors and decoristas! So, Sails Ahoy, sailors?


Ultra-easy to install, our headboards simply stand on the floor between your wall and your mattress. Bring your bed to life by transforming it into a real work of art thanks to our headboards that combine comfort and design.


Our kits are composed of a foam padded wood structure foam that is dressed with one of our design covers imagined by our talented artists.


Through your purchase, you contribute to the development of a local economy and ethics. In effect, our artists are paid directly for each purchase of their headboard.


Your headboard myQuintus is made up of :

INTERCHANGEABLE COVER
Made in the Vosges region, renowned textile territory, our covers are machine washable and are made of high quality cloth that is known for its durability


100% polyester from ethical sources





Signed by an artist
Perfectly adjusted to the headboard
HEADBOARD BASE
Our headboard structures are made in Ban-de-Laveline,
by craftmen renowned for their skill.


PEFC wood structure
3 cm of foam PU (17kg/m3)
Protective slippers
Height : 111cm
Thickness : 9 cm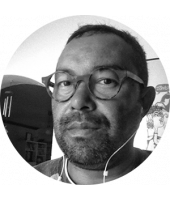 Paraja
Paraja was born and raised between France and the Indian Ocean. He made his debut in the fashion industry. After having exercised 10 years as a designer, responsible for the creation of clothes and accessories for trademarks such as Streetwear International, Sir Benni Miles NYC, Ecko Unlimited and Zoo york.
LEARN MORE