Fleur
by

Axelle Grosperrin
Let flora into your bedroom and enjoy the fresh breath of spring it brings to your bedding. This set of flowers and leaves, overflowing with colours, will delight lovers of beautiful floral bouquets. Admire the different petals with their geometric forms made easily distinguishable from each other thanks to a multitude of sunny shades. Drawn by the artist Axelle Grosperrin, the designer head board 'Flower' mixes nature, escape and light concepts thanks to its colour gradients. Let this quilted headboard provide comfort and a touch of originality to your bedroom.


Ultra-easy to install, our headboards simply stand on the floor between your wall and your mattress. Bring your bed to life by transforming it into a real work of art thanks to our head boards that combine comfort and design.


Our kits are composed of a foam padded wood structure foam that is dressed with one of our design covers imagined by our talented artists.


Through your purchase, you contribute to the development of a local economy and ethics. In effect, our artists are paid directly for each purchase of their headboard.


Your headboard myQuintus is made up of :

INTERCHANGEABLE COVER
Made in the Vosges region, renowned textile territory, our covers are machine washable and are made of high quality cloth that is known for its durability


100% polyester from ethical sources





Signed by an artist
Perfectly adjusted to the headboard
HEADBOARD BASE
Our headboard structures are made in Ban-de-Laveline,
by craftmen renowned for their skill.


PEFC wood structure
3 cm of foam PU (17kg/m3)
Protective slippers
Height : 111cm
Thickness : 9 cm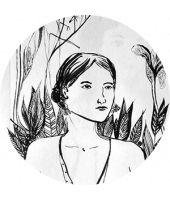 Axelle Grosperrin
Trees, flowers, and a yearning for foliage on a grey day. A wine merchant by day, drawing lets me sift through what's important. It is an intimate exercise, tinted with simplicity, curiosity and astonishment about this crossing we all must make.
LEARN MORE