Ornement floral
by

Léontine Soulier
Usher this floral composition into your bedroom and dream among its intertwined vegetable fibres. Much like a frieze above your bed, this organic illustration of an English garden on a soft spring morning adds a bucolic touch to the decoration of your bedroom. Imagined by the artist Léontine Soulier, the " floral Ornament" headboard cover recreates a lush countryside that rocks you to restful and restorative sleep with its positive waves. Or welcomes you to an evening of reading, perhaps even a book on botany.


Ultra-easy to install, our headboards simply stand on the floor between your wall and your mattress. Bring your bed to life by transforming it into a real work of art thanks to our head boards that combine comfort and design.


Our kits are composed of a foam padded wood structure foam that is dressed with one of our design covers imagined by our talented artists.


Through your purchase, you contribute to the development of a local economy and ethics. In effect, our artists are paid directly for each purchase of their headboard.


Your headboard myQuintus is made up of :

INTERCHANGEABLE COVER
Made in the Vosges region, renowned textile territory, our covers are machine washable and are made of high quality cloth that is known for its durability


100% polyester from ethical sources





Signed by an artist
Perfectly adjusted to the headboard
HEADBOARD BASE
Our headboard structures are made in Ban-de-Laveline,
by craftmen renowned for their skill.


PEFC wood structure
3 cm of foam PU (17kg/m3)
Protective slippers
Height : 111cm
Thickness : 9 cm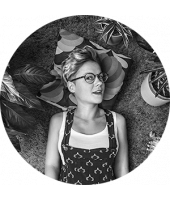 Léontine Soulier
With pencil in hand, Leontine nervously wades through the vegetation. An animal, a body, two naked bodies inter-twined, plants that come and go… A little humour softens what may seem shocking, not taking it seriously, not giving a damn – making it cute, but not really.
LEARN MORE