Samouraï
by

Bastien Massot
It is possible to give a Japanese look to your bedroom without having to add tatami mats or sliding doors. And we can prove it with the Deco headboard "Samurai" signed by artist Bastien Massot. Like the word "samurai" which means "one who serves", this quilted Japanese head board is there to serve your comfort, providing a Zen atmosphere and Feng Shui. Just like a painting, this magnificent traditional war scene transports you to the other side of the world. Wake up your Samurai soul and choose between two shades: warm or cold.


Ultra-easy to install, our headboards simply stand on the floor between your wall and your mattress. Bring your bed to life by transforming it into a real work of art thanks to our headboards that combine comfort and design.


Our kits are composed of a foam padded wood structure foam that is dressed with one of our design covers imagined by our talented artists.


Through your purchase, you contribute to the development of a local economy and ethics. In effect, our artists are paid directly for each purchase of their headboard.


Your headboard myQuintus is made up of :

INTERCHANGEABLE COVER
Made in the Vosges region, renowned textile territory, our covers are machine washable and are made of high quality cloth that is known for its durability


100% polyester from ethical sources





Signed by an artist
Perfectly adjusted to the headboard
HEADBOARD BASE
Our headboard structures are made in Ban-de-Laveline,
by craftmen renowned for their skill.


PEFC wood structure
3 cm of foam PU (17kg/m3)
Protective slippers
Height : 111cm
Thickness : 9 cm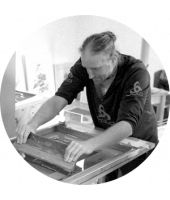 Bastien Massot
Didactic illustrator, I try to understand and describe the world around me. I enjoy observing codes of representation and the relationships that we have with objects. I produce most of my visual art for the communications and museography industries.
LEARN MORE