You may consider your bedroom to be the most important room in your house. You need to create a cosy nest that looks like you. For an elegant decoration with a primitive touch, opt for this modern headboard with its afro-pop print. Our artist Paraja will transport you to a universe full of timeless graphic patterns that blend colours and ethnic influences. Find the cover that best suits your personality among these four suggested colours: black, dark blue, turquoise or red. Choose the size of your headboard according to the size of your bed: 140, 160 or 180 centimetres.


Ultra-easy to install, our headboards simply stand on the floor between your wall and your mattress. Bring your bed to life by transforming it into a real work of art thanks to our headboards that combine comfort and design.


Our kits are composed of a foam padded wood structure foam that is dressed with one of our design covers imagined by our talented artists.


Through your purchase, you contribute to the development of a local economy and ethics. In effect, our artists are paid directly for each purchase of their headboard.


Your headboard myQuintus is made up of :

INTERCHANGEABLE COVER
Made in the Vosges region, renowned textile territory, our covers are machine washable and are made of high quality cloth that is known for its durability


100% polyester from ethical sources





Signed by an artist
Perfectly adjusted to the headboard
HEADBOARD BASE
Our headboard structures are made in Ban-de-Laveline,
by craftmen renowned for their skill.


PEFC wood structure
3 cm of foam PU (17kg/m3)
Protective slippers
Height : 111cm
Thickness : 9 cm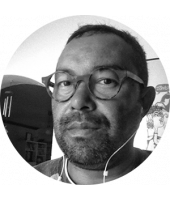 Paraja
Paraja was born and raised between France and the Indian Ocean. He made his debut in the fashion industry. After having exercised 10 years as a designer, responsible for the creation of clothes and accessories for trademarks such as Streetwear International, Sir Benni Miles NYC, Ecko Unlimited and Zoo york.
LEARN MORE